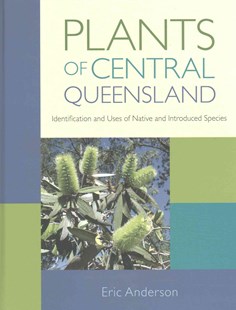 Title: Plants of Central Queensland
Author: Eric R. Anderson
Publisher: CSIRO
Release Date: 2016
Pages: 576
ISBN:
Illustrated: colour photographs and maps
Indexed: botanical names index, common names index
Rating: * * * * *
Purchase from: Angus & Robertson, Booktopia, AbeBooks
Plants of Central Queensland is the improved version of a previous work of the same title that now describes many additional plant species.
The book provides information on the habit, distribution, foliage and fruits of 525 plant species in central Queensland for identification in the field. These are the most important plants you might see if you live in or travel through central Queensland.
It has an easy-to-read, non-botanical format, with helpful photographs and distribution maps. The notes include information about declared weeds, poisonous plants, medicinal plants and plants useful for bees and bush tucker. The plants are grouped into major types – ferns, herbs, trees, shrubs, and grasses.
Central Queensland straddles the Tropic of Capricorn, although many of the plants in the book occur outside this area, as shown by their distribution maps.
Plants of central Queensland can help everyone in this prime grazing area who needs to make decisions about vegetation and land management. It is a valuable resource for graziers, other land owners, naturalists, conservationists, anyone interested in land care and anyone else interested in Australian vegetation.
Review comments
When I was travelling through central Queensland several years ago, I used the previous version of Plants of Central Queensland to identify plant species I came across.
The book was extremely useful and helped to identify many of the plants I found. It is so exciting to see many more plants in the book!
I can greatly recommend this book.
Purchase from: Angus & Robertson, Booktopia, AbeBooks
Other useful plant books for Queensland