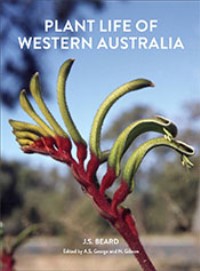 Plant Life of Western Australia
Botany
Rosenberg Publishing
2015
328
9781925078787
colour photographs
there are two indexes, a plant name index and a place name index

Plant Life of Western Australia is an interpretation for the general reader of the Vegetation Survey of WA done from 1964 to 1984 by Dr Beard. It was first published in 1990.
This new edition has been revised by Alex George. The book makes maximum use of colour illustrations, to which the subject particularly lends itself. The author took about 2000 colour slides in the course of this extensive field work, and over 500 of the best of these feature prominently in the book.
Background
Dr Beard came to Western Australia in 1961 as Foundation Director of the Botanic Garden being established in Perth's Kings Park.
The Kings Park garden, officially opened in 1965, has become one of Perth's major attractions for visitors and the local population. It has a scientific as well as popular function, being principally devoted to study of the biology and horticulture of native plants.
Dr Beard rapidly became one of the leading botanists with expertise in the state's plants and produced a Descriptive Catalogue of Western Australian Plants in 1965.
In 1964, in collaboration with the Department of Geography at the University of Western Australia, Dr Beard established a project known as the Vegetation Survey of WA, which aimed at mapping the plant cover of the entire state. Series of vegetation maps were produced and the project was finally completed in 1981. About 200,000 km were covered by vehicle in 17 years.
As a result, Dr Beard acquired an unrivalled knowledge of the landscapes and their plant cover over the whole immense area of Western Australia. The ecologist travelling through a stretch of country is aware not only of the plant species present and their arrangement into communities, but of the whole structure of the landscape, its geology, its forms in mountains, hills and plains, and the climate past and present. This is more than an ordinary degree of awareness, and it is in the hope of sharing some of it with others that this book has been written.