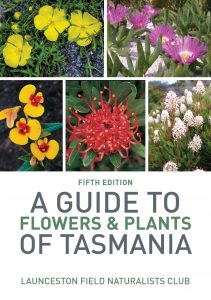 Title: A Guide to Flowers and Plants of Tasmania
Author: Launceston Field Naturalists Club
Publisher: New Holland Publishers
Release Date: 2018
Pages: 222
ISBN: 9781925546439
Illustrated: colour photographs for all plants
Indexed: mixed botanical name and common name index
Rating: * * * *
Purchase from: Booktopia, AbeBooks, Angus & Robertson
A Guide to Flowers and Plants of Tasmania is a field guide to common plant species in Tasmania.
This is an invaluable companion and reference for bushwalkers, tourists and all those interested in the Tasmanian countryside. Now in its 5th edition, A Guide to Flowers and Plants of Tasmania, has been extensively revised.
The book also includes an introduction to the vegetation of Tasmania, illustrations of leaf shapes and a glossary.
Review comments
This is a great illustrated book for naturalists wishing to identify flowers and plants in Tasmanie. It was a great resource when I visited Tasmanie several years ago.
The continuous updates of this book over its lifetime have made that the information is up to date and the number of species keeps increasing 🙂
A wonderful achievement by the Launceston Field Naturalists Club! I greatly recommend it.
Purchase from: Booktopia, AbeBooks, Angus & Robertson
Other plant recources for Tasmania