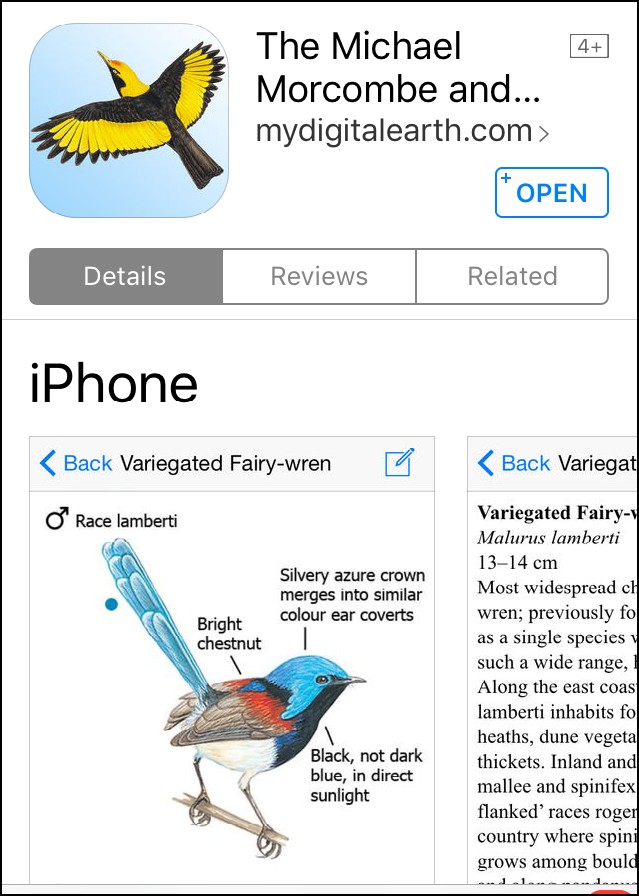 Birds of Australia
Animal identification
mydigitalearth.com
2014
maps, colour drawings

Easy bird identification while in the Australian bush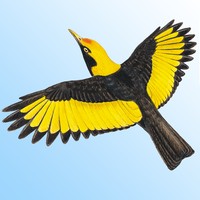 I love the 'Birds of Australia' app. It makes identifying Australian birds in the bush so much easier. It's also a great way to learn more about birds.
After having carried around our bird identification books for many years, the option to purchase an electronic version of our bird book in app format was immediately tempting. We purchased the 'Birds of Australia' app a few months after it was released in 2014. It was the first app of its kind for Australian birds.
The app has since had a number of updates and keeps getting better. The bird sound recordings with the app easily double its value over the book. We are nature lovers, but no bird specialists, and many times the confirmation of the sound together with the pictures has allowed us to identify the birds much faster than before.
Content overview
'Birds of Australia' gives you easy access to Michael Morcombe's 'Field Guide to Australian Birds' while in the bush. It describes close to 800 Australian bird species. These are illustrated with over 3000 high-resolution drawings and 1800 sounds of birds, recorded by David Stewart.
The app is easy to use on the iPone, but much nicer on the larger screen of an iPad.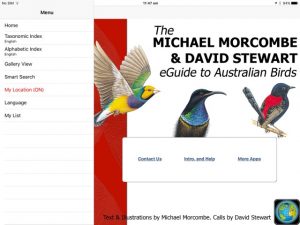 For each bird there is a description and several detailed drawings that show the important features for identification.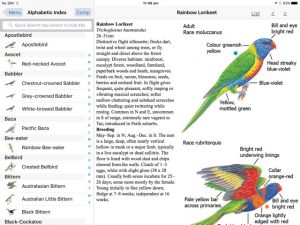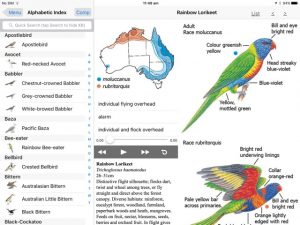 There is also a distribution map for each species.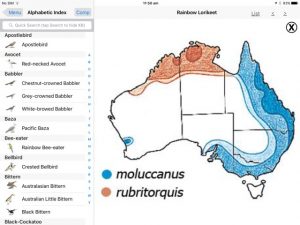 For identification purposes, you can limit the number of birds to those present in your region. This makes the list of possible birds much smaller. There is also a smart search where you can provide various characteristics to help you identify a bird.
It is easy to create your own bird lists and keep a record of the birds you saw at different locations. For each of these records, you can add notes and comments.
Conclusion
'Birds of Australia' is a great app and not too expensive. You can try the LITE version for free. It has 59 species, but shows all features of the main app.
This is a great app for naturalists and people who like to learn more about the birds around them. I can certainly recommend it!
Do you have this app?
If you have the 'Birds of Australia app', I would love to hear from you!
Let me know how you are using the app and explain why you like it or don't like it. Can you recommend other apps like this?
Of course, you are also most welcome to give general comments about the website!
Note: When submitting your reply below, please keep in mind that this website is monitored for spam. This means it may take a few days for your comment to appear on the page.
Other bird resources
Related resources