Australian Plants for Canberra Region Gardens
Gardening
Australian Native Plants Society Canberra Region Inc.
2015 (5th revised edition)
366
9780646930336
illustrated with over 1000 colour photographs
mixed index, including subjects, botanical names and common names

A gardening book that overflows with colour
'Australian Plants for Canberra Region Gardens' is written for Canberra region gardeners by Canberra region gardeners. The book brings together over 50 years of gardening experience by past and present members of the Australian Native Plants Society—formerly the Society for Growing Australian Plants—Canberra Region.
This is the fifth edition, extensively revised and now has illustrations for 934 described plants, with many more forms and cultivars listed.
I have to declare a personal connection with this book, so there may be some bias in this review.
Content overview
The first chapter in the book discusses the Canberra region environment and climate. Then follow two chapters on gardening with native plants, the first on garden design and the second on managing the garden. A fourth chapter discusses how to find  plants in the Canberra region and check plant health.
The largest part of the book, more than three quarters, is taken up by the illustrated plant descriptions. This part of the book is subdivided by growth form. The chapters include groundcovers, herbaceous plants, grasses and clumping plants, ferns, shrubs, and trees.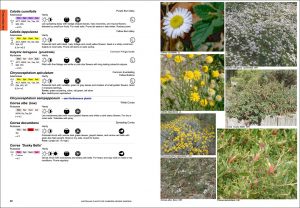 The Australian plants selected for this book are likely to grow well in the Canberra region and in other similar cool climate areas. Significantly, more than one third of the Australian plants included in the book are native to the Canberra region, while others come from elsewhere in Australia.
Each description has a handy set of symbols that quickly show what the plant's recommended light, water, soil and frost conditions are.
Book audience
The book is of interest to new and experienced gardeners and native garden designers in the Canberra Region. It will also be useful to gardeners in other cold climate areas in Australia, as most of the described species are frost resistant.
For new gardeners, there are clear instructions on how to start and maintain a native garden in the Canberra environment. By following the planting information provided, everyone can aim to create a splendid native garden, with flowers all year round and inviting habitats for local birds and wildlife.
Key features
The key features of this book are:
region-specific climate and gardening information
a large list of plants that are suitable for growing in the Canberra region
colour photographs and preferred gardening conditions for all described plants.
The book's colour photographs are clearly a very desirable feature for gardeners, who can use these to make a selection of plants they like before going shopping. The symbols will quickly show them how they need to look after the plant.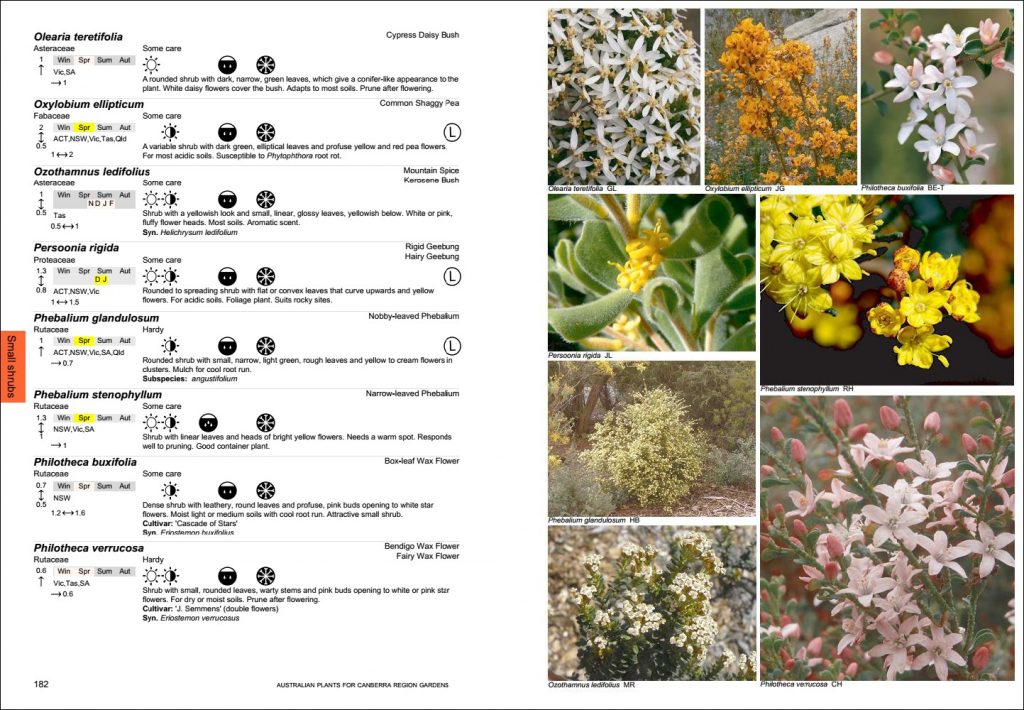 Additional features
Other features of the book that are very useful are:
the publication reference list, where readers can find additional information
a comprehensive index with both botanical and common names
the coloured section labels on the margin for quick browsing.
Conclusion
'Australian Plants for Canberra Region Gardens' has become very popular in Canberra and has had great reviews. I use it each time I need new plants for the garden. Browsing the book is a great way to select plants for the garden!
I recommend this book to everyone who wants to start, maintain or design a native garden in the Canberra region.
Related resources
Do you have this book?
If you have a copy of 'Australian Plants for Canberra Region Gardens', I would love to hear from you!
Let me know how you are using the book and explain your special concern/praise for the book. Can you recommend other books like this?
Of course, you are also most welcome to give general comments about the website!
Note: When submitting your reply below, please keep in mind that this website is monitored for spam. This means it may take a few days for your comment to appear on the page.