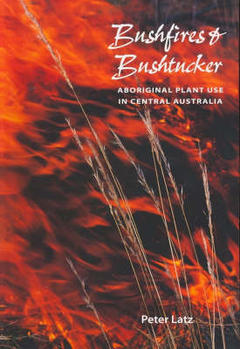 Bushfires & Bushtucker
Ethnobiology
Iad Press
1995 (reprinted 2004, 2005)
400
9780949659965
detailed drawings and photographs
mixed index, including subjects, botanical names and common names

Bushfires & Bushtucker: Aboriginal plant use in Central Australia is a comprehensive survey of desert plants and plant use in Central Australia (Northern Territory).
The Pitjantjatjara, Warlpiri, Arrente, Pintupi and many other Central Australian Aboriginal peoples have shared their knowledge with lifelong Centralian Peter Latz to produce this lively and accessible book.
A land of mulga and spinifex, sand dunes and salt lakes, Australia's Centre is a place of climatic and topographic extremes. In spite of this, the people who have lived here since the Dreamtime have done more than simply eke out an existence. They have lived a comfortable life rich in ceremony and culture.
Bushfires & Bushtucker explains how the land's first inhabitants have not been passive figures in the landscape, but have actively worked and changed their environment, often by means of fire. Their management of the country has allowed them to survive and prosper, to live through the worst droughts and reap the benefits of good times.
Buy from: AbeBooks