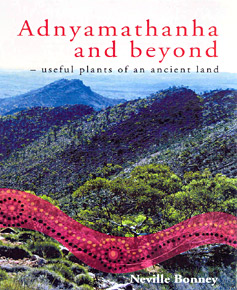 Adnyamathanha and Beyond
Ethnobiology
Australian Plants Society (South Australian Region) Inc.
2006
99
9780980301304
colour photographs
not indexed, but contains a list of plants sorted by plant family

Adnyamathanha and Beyond: useful plants of an ancient land is about plants in the Flinders Ranges that are significant to the Adnyamathanha Aboriginal people in South Australia.
These are the plants that have provided the Adnyamathanha people with plentiful food, medicine, craft and hardware supplies for thousands of years.
This book includes botanical descriptions and illustrations of many plants, as well as photographs depicting this unique region.
Buy from: AbeBooks | Australian Plants Society (SA)