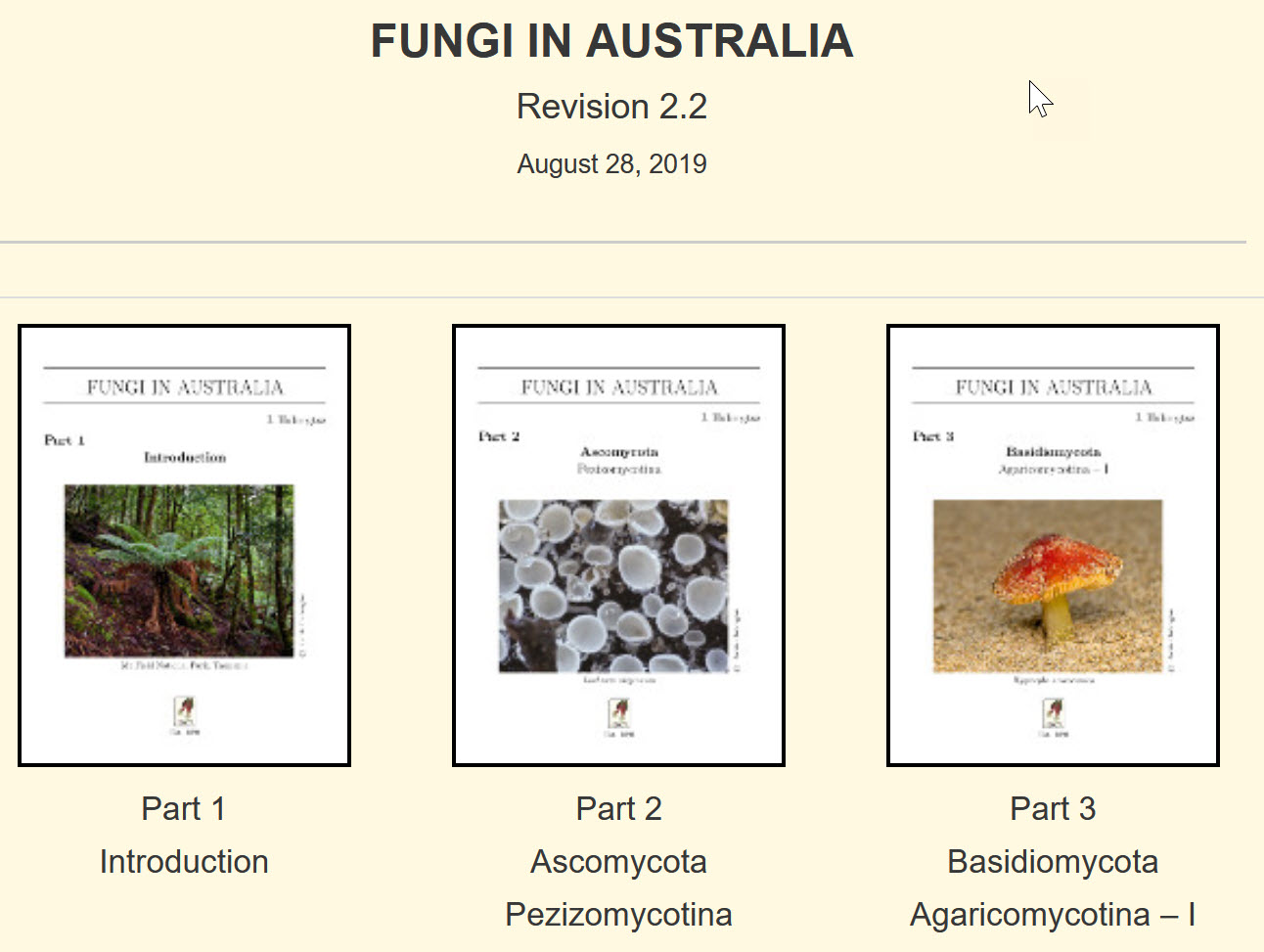 Fungi in Australia
Field Naturalists of Australia
downloadable PDF ebook
colour photographs for all species
scientific name index with hyperlinked pages and glossary

The Fungi in Australia ebook series (PDF format) consists of 7 parts. The books aim to help naturalists identify fungi they may find in some Australian native forests. The books contain 380 species and over 2000 colour photographs of fungi.
The series is predominantly based on Victorian fungi observed, collected and identified during the fungal forays by the Fungi Group of the Field Naturalists Club of Victoria. The ebooks can be freely downloaded from the website in exchange for a donation to the club. All books have an interactive table of contents and index for ease of navigation.
In the introduction book, special attention goes to the identification, microscopy and photography of fungi. There are also many references to other works on fungi.
Each species is discussed within its taxonomic order. For each species section there are excellent colour photographs. These are accompanied by a discussion of the species' biology, a description of the fruiting body, the microscopic features, and there are excellent comments on how to recognise the species in the field.
It is clear form these comprehensive works that the author has merged all of the clubs experiences into these books. A great work that will hopefully grow continue to include more and more fungi from all over Australia.
Website link: Fungi in Australia
Books in series
The books in the 7-part series are:
Introduction to Fungi In Australia
Ascomycota: Pezizomycotina (ascomycetes).
Basidiomycota: Agaricomycotina – I (Agaricales, the largest order in Agaricomycotina–approximately 63% of the species)
Basidiomycota: Agaricomycotina – II (remaining orders in Agaricomycotina)
A photographic guide to Ascomycetes (groups species according to morphology; e.g. disc, cup, club)
A photographic guide to gilled fungi (groups species according to their spore print colour)
A photographic guide to non-gilled fungi (groups species according to morphology (e.g. bolete, puffball, earth-star, coral, etc.).
Parts 2 to 4 contain species descriptions, each accompanied by two images
plus references. Each book has an interactive index and a glossary.
Parts 5 to 7 are photographic guides, in which each page is dedicated to
a single species, with up to 6 photos of each species.
This arrangement allows the user to first make an identification using one of the photographic guides in parts 5, 6 and 7; and then access more detailed information about the species in Parts 2, 3 or 4.