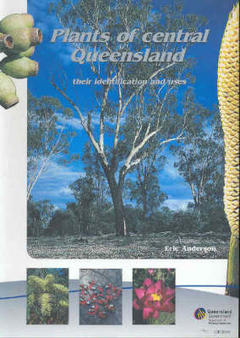 Plants of Central Queensland
Field guide
The State of Queensland Department of Primary Indistries
1993
272
9780734502490
colour photographs and maps
there are two indexes, a botanical name index and a common name index

Plants of Central Queensland
Their identification and uses
Knowledge about vegetation is a key element in land management, whether the focus is on agriculture, recreation or conservation. It is particularly important in an area like central Queensland – the heart of the state's cattle industry.
This book clearly describes and illustrates 240 plants of central Queensland so that they can be readily identified in the field. To make the book easy to use, the plants are grouped into major types – ferns, herbs, trees, shrubs, and grasses.
Plants of central Queensland has been written to help everyone in this prime grazing area who needs to make decisions about vegetation and land management. It is a valuable resource for graziers, other land owners, naturalists, conservationists, anyone interested in land care and anyone else interested in Australian vegetation.